CATALOG

Some of Edições Membrana's publications are available for delivery by post.

︎ email requests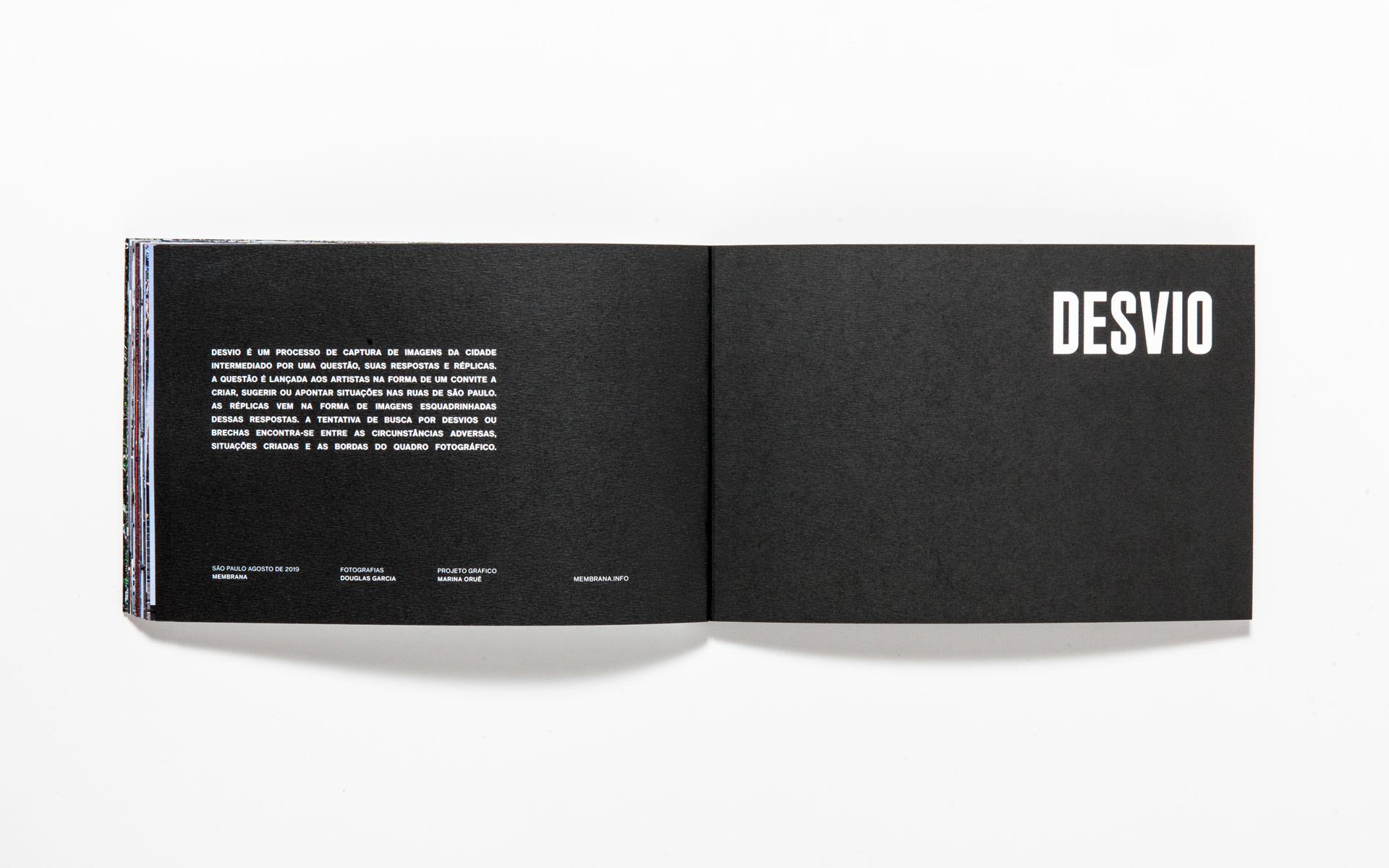 From 2011 to 2019, the photographer Douglas Garcia carried out the photographic project Deviation, which took shape as a book edited by Edições Membrana.

Deviation is the process of capturing images of the city, mediated by a question, its answers and replies (a reply to other replies). The question was proposed to artists in the form of an invitation to create, suggest or indicate situations in the streets of São Paulo. The replies appeared in the form of gridded images of those answers. The attempt of searching for diversions or gaps was found among adverse circumstances, staged situations and the edges of the photographic frame.

Executing the project involved observing the inescapable, adverse and ephemeral relations that permeate the context of the streets and their concreteness, the purposeful actions inserted in the streets by guest artists and the photography as a program or model for capturing images, as do surveillance cameras, cell phones or scanning satellites.

The images were captured based on the idea of the absence of a main object and the division of the photographic frame into 9 parts, all of them having the same value, each fragment corresponding to an individual page of the publication.

Guest artists: Adriano Costa, Bruno Mendonça, Daniel Jablonski, Deyson Gilbert, Erica Ferrari, Fábio Morais, Flora Leite, Guilherme Peters, Gustavo Rezende, Marcius Galan, Rachel Pach and Tiago Santinho.

The book was launched in the 23rd of Tijuana SP Printed Art Fair, at Casa do Povo, São Paulo, Brazil, August 3rd to 4th, 2019.
14 x 21 cm, 108 pages
printed by indigo
on markatto 120g paper
edition of 90 copies

photographs, Douglas Garcia
graphic design, Marina Oruê

guest artists, Adriano Costa, Bruno Mendonça, Daniel Jablonski, Deyson Gilbert, Erica Ferrari, Fábio Morais, Flora Leite, Guilherme Peters, Gustavo Rezende, Marcius Galan, Rachel Pach e Tiago Santinho

São Paulo, SP, August 2019
Edições Membrana